Environmental Impact of Windscreen Repair / Replacement
GlasWeld Environmental Impact
Windscreen repair and Glass Scratch Repair has a positive environmental impact. At GlasWeld, we are committed to helping reduce glass waste in our landfills.
By decreasing the amount of glass that goes into landfills, and reducing the need for new glass manufacturing and transportation we can all make a positive environmental impact.
Did you know...
Glass takes more than 1 million years to decompose in our landfills.
In Europe, 9 million windshields are replaced annually. At an average weight of 25 pounds each, this equates to about 225 million pounds of waste per year.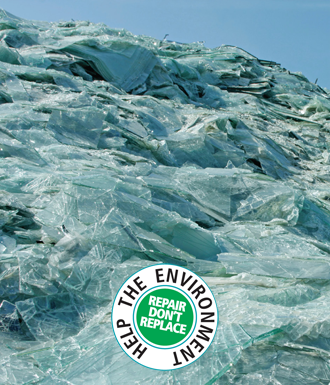 Windscreen glass is difficult to recycle because much of the glass is 2-ply laminated and contains a PVB layer that must be separated. Integrated heating elements or radio antenna are often embedded within the windshields and cannot be returned to the glass furnace for reworking. British Glass, Glass Manufacture: A Mass Balance Study, 2005.
The transportation of glass, which is a relatively heavy product, throughout the supply chain results in high levels of transport-related CO2 emissions. Advances in Glasses and Glass-Ceramics, Frost & Sullivan, 2006.
Glass manufacturing is a high-temperature, energy-intensive activity, resulting in the emission of combustion by-products (sulphur dioxide, carbon dioxide, and nitrogen oxides) and the high-temperature oxidation of atmospheric nitrogen. Environmental, Health, and Safety Guidelines for Glass Manufacturing, World Bank Group.
It takes 15.2 million BTUs of energy to produce one ton of glass. The manufacturing of one ton of glass can generate as much as 385 pounds of mining waste and 28 pounds of air pollutants. Like the production of other materials, glass manufacturing and usage has negative impacts on the environment. The Rhode Island Resource Recovery Corporation.
Thousands of repairs can be carried out for the equivalent environmental impact of 1 replacement.
Why are we bringing these points to light? The more that we all participate in reducing the use of raw materials and the energy needed to produce glass, the better off our environment will be, making glass repair the only environmentally friendly option.
Why Repair?
Repairing a windscreen costs significantly less than replacing them, and can potentially save you hundreds of pounds.
Glass repair is also far less time consuming and can be done on the spot – in addition to being far more environmentally friendly.
Why Windscreen Repair
GlasWeld Guarantee
However long you own your vehicle, GlasWeld® guarantees its workmanship. This is in addition to your statutory rights.
Glas Weld also guarantees that any windscreen repair it carries out will pass the MOT.
If you are not satisfied with the repair or there is a problem with the
windscreen repair
in the future we will endevour to resolve that problem or refund your money.