Chipped Windscreen Repair by GlasWeld
If the chip on your windscreen is no larger than a £2.00 coin, GlasWeld can often repair it at no cost to you if you have fully comprehensive insurance. Our mobile service will come to you, home or office at a time to suit you and it only takes around 25 minutes to repair a chip.
Many motorists will, at some point, find their windscreen gets chipped. Common causes of chipped windscreens can include small stones being thrown up by the vehicle in front; or extreme weather events and direct impacts; and various other reasons.
Should I Repair a Chipped Windscreen?
When you notice a chip in your windscreen, you should aim to repair as soon as possible.
If you continue to drive with a chipped windscreen, there is an increasing chance that the chip will cause the windscreen to crack.
Your windscreen provides up to 30% of the vehicle's structural strength and the passenger airbag relies on the windscreen to provide support if the airbag deploys. Repairing a chip will result in your windscreen being as strong as before the damage happened. You'll save the expense of a replacement windscreen. You will help to protect the environment by repairing and not replacing.
Repairing the chip will improve the appearance of your car and although it won't completely disappear, a repair will be virtually invisible. Depending on your insurance status, you might be entitled to a free windscreen repair.
GlasWeld local windscreen repair technicians are equipped with the best windscreen repair kit and their workmanship is guaranteed to pass the MOT and last for as long as you own the vehicle.
Will a Chipped Windscreen Cause A MOT Fail?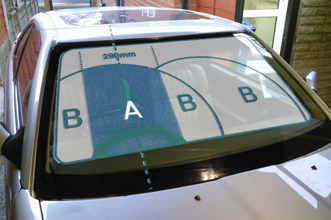 Even a small windscreen chip within a driver's line of vision could cause a windscreen to fail an MOT test, so drivers hoping to pass their MOT should make sure windscreens are repaired or replaced as necessary before an MOT test takes place.
The safety of you and your passengers is paramount, so don't delay, book the best windscreen repair from GlasWeld today.
Postcode Search
Enter the first part of your postcode here to search for a local GlasWeld Technician...
Book A Visit
To book a visit by a GlasWeld technician, please complete this form and we will call you back to confirm terms, as well as answering any questions you have:
GlasWeld Guarantee
However long you own your vehicle, GlasWeld® guarantees its workmanship. This is in addition to your statutory rights.
Glas Weld also guarantees that any windscreen repair it carries out will pass the MOT.
If you are not satisfied with the repair or there is a problem with the
windscreen repair
in the future we will endevour to resolve that problem or refund your money.