Fleet Windscreen Repair
Why every Transport Manager should have a "Repair First" Policy.
GlasWeld is the largest dedicated "Windscreen Repair" company in the UK. This means our equipment and Technicians are developed and trained completely differently from our competitor Windscreen Replacement services.
Our Team is dedicated to saving the windscreen and therefore reducing your replacement costs and the down time of your vehicles. This has become even more valuable since the introduction of ADAS (Advanced Driver Assistance Systems) because they not only increase the price of the windscreen, but they need to be recalibrated before you can use the vehicle again (carrying an average additional cost of £300.00).
We currently look after over 400 Blue-chip customers and over 4000 large business fleets. So what do we offer that other companies don't?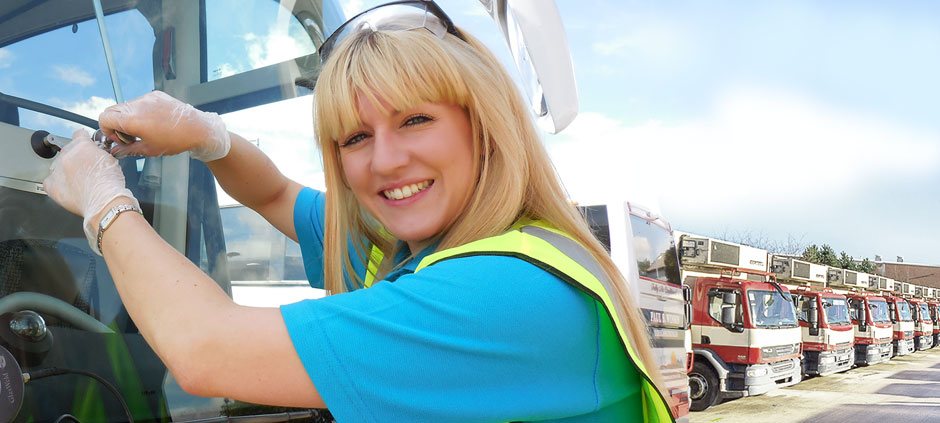 Market Leading Windscreen Repair Product
Firstly we have a market leading product with 9 different resin applications, we have a resin for all circumstances. For example, if there are fine cracks coming from the damage, you will need a thin resin to run in to the cracks on the glass. Whereas if there has been a hard impact and a large damage area you will need a thicker resin. It makes perfect sense.
So why are we the only company that use all of these different resins? Because we pride ourselves in being the best at what we do and want to ensure that we have completed the repair to exceed industry standards.
Superior Windscreen Repair Technicians
Secondly, all of our Technicians are trained extensively at our dedicated facility in Rochester. We also have a continuous programme of development on new techniques and methods – especially with crack repairs.
Convenient Service for Business Continuity
Thirdly we offer a "Free Fleet Check Service" to all of our fleet customers, which can be completed on Saturdays, Sundays, or out of normal hours. We can tailor a service according to when your vehicles are available.
Free Fleet Checks
For our fleet customers, we operate a free fleet inspection on a fortnightly / monthly basis. This allows us to repair the majority of chips and cracks before a screen replacement is necessary.
Our customers, on average, see a saving of between 20% to 40% on their glass spend when using GlasWeld's Free Fleet Inspection.
We have a network of 57 mobile Technicians across the UK that are highly skilled in glass repair and equipped with the best windscreen repair kit: our unique, patented system; setting us a clear mile in front of our competitors.
Fleet Managers.... have you compared Repair vs Replacement costs ? Can you afford not to use us ?
Fleet Management: Cost Savings
Most modern commercial fleets have vehicles with bonded windscreens, this is to improve structural strength and prevent roof collapse in the event of a roll over incident.
The down side to this is that the windscreen now undergoes more extreme stress during normal driving conditions as it is an integral part of the vehicle structure.
You will now find that any stone chip damage to the windscreen can crack far quicker than before due to the stress being applied by the body of the vehicle. This can lead to a high volume of windscreen replacements and a huge cost to your business.
Case Study
In one case study alone, that we completed for a blue-chip customer running a fleet of over 15,000 vehicles, their windscreen replacement percentage was 84% vs 16% repair.
Financially, this represented a spend of £400k per year just on windscreen replacement.
We set up a fleet check programme for them and within the last 12 months we have managed to turn the percentages round to 81% repair vs 19% replacement.
This resulted in a cost saving of £280k, which we think you will agree is significant for any business.
If you haven't already got a Fleet check service in place, please get in touch with us directly and we will be more than glad to meet with you to discuss your needs and how we can support your business.
Friendly staff are waiting in our head office, simply call the helpline number above or view the CONTACT US page.